L
earn to surf or take your surfing to new heights while discovering yoga and meditation in fabulous Santa Teresa, Costa Rica. The best of both worlds meet - resulting in probably the most beautiful Surf & Yoga Retreat in the world.
New for this winter is a couple of wonderful signature weeks. LADYSLIDE with Amanda Djerf, a photo workshop with Clara Morberg and for those of you who want to take their surf to the next level, HANG 10 * s & WIPE OUT * s with Jens & Peter.
As we sit out in the water waiting for waves and looking to shore we're dazzled by a mighty green backdrop - the rainforest runs all the way down to the beach.
We live together in the magical jungle lodge Griss with one of the world's most beautiful beaches at our doorstep. The small dirt road that runs through the village is lined with cozy restaurants. Sushi joints, juice bars and artisanal cafés driven by passionate residents from Japan, New York, Europe and South America that have made this melting pot of a beach town their new home. Or sit down in a soda, not the soft drink but the typical local, slightly simpler restaurant for a wholesome meal.
At sunrise or just after the sun has set we land in our bodies and stretch out with our own yogini. Sometimes yoga, sometimes meditation, always relaxing. The best way to get ready or round up a session in the ocean.
Costa Rica has a tropical climate and enjoys a 28 degree water all year round, like a spa au natural. Surfakademin's surf retreat is located on the Nicoya Peninsula on the Pacific side of the country. With a 180-degree swell window, Costa Rica is extremely wave safe all year round.
Costa Rica has one of the longest life expectancies in the world. Why? Beautiful and dramatic landscape, wonderful climate and incredibly varied surf maybe? Ask a local tico or tica and they say the main reason is the laughter and joy that's always present. As easy as that.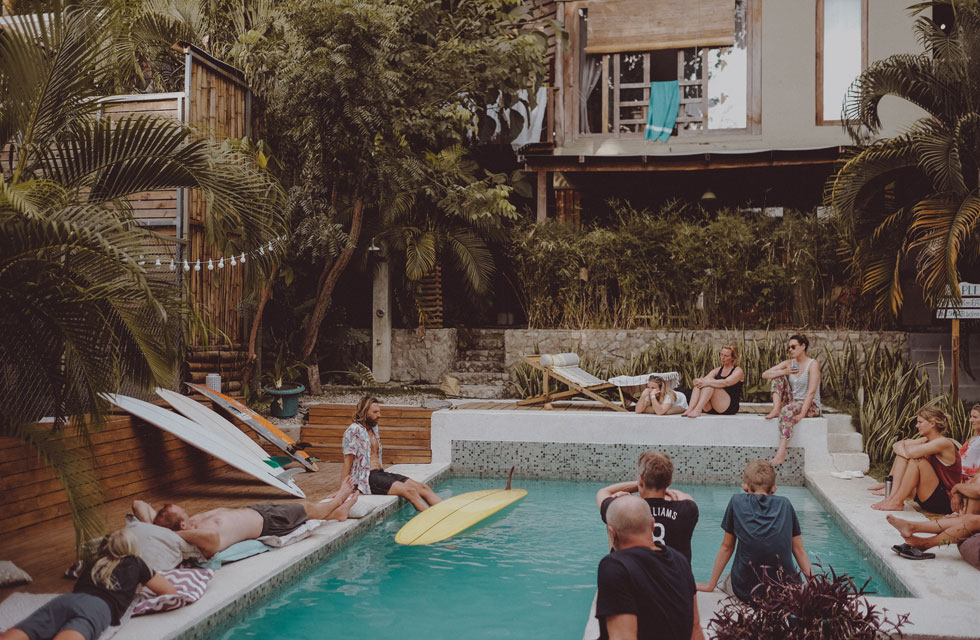 T
he sun is slowly piercing through the palm leaves and the first light of day has arrived. The time is just before dawn and another day in paradise begins.
The lodge is located where the jungle meets the ocean. The gentle sound of waves breaking at the beach is only interrupted by the roaring monkeys singing in choirs up in the palm trees. The pool is the go to meeting place between sessions. During Christmas and New Year we also rent to neighboring Anam. Brand new in the best of ways with lots of heart.
We live in super-fresh and cozy wooden houses shared by three or six guests. The cabins have A/C, a kitchen and fully equipped bathrooms.
For love birds and other loved ones traveling in pairs there is the opportunity to book studios with private bathrooms for an additional cost.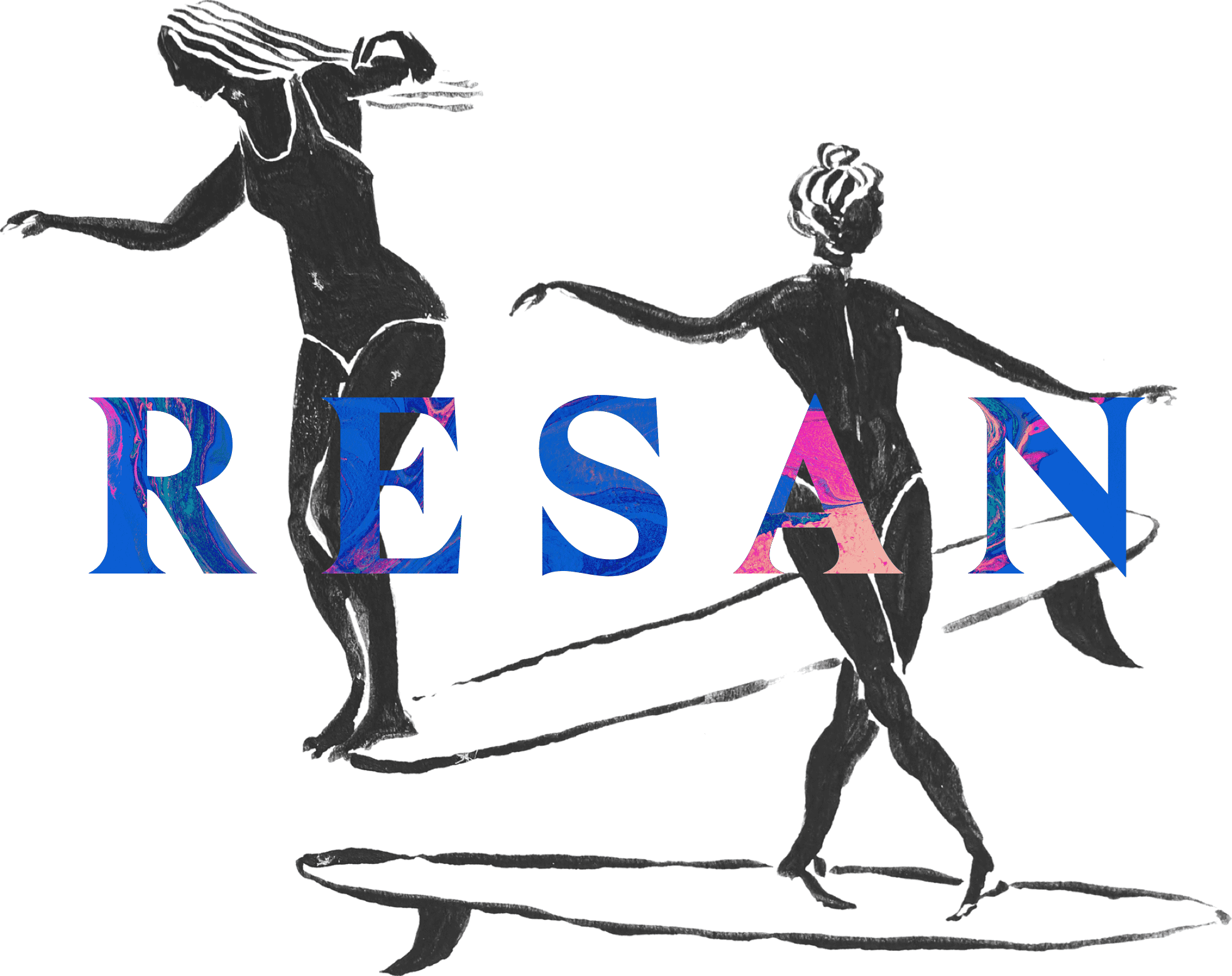 Flights
Most international flights to San José land in the evening so the first night is best spent there. We recommend Hotel La Riviera located near the airport. As December and January are high season it is a good idea to book a room in advance.
Transfer
After an overnight stay in San José you will be picked up at Hotel La Riviera at 6.00 am on Saturday morning by our shuttle that takes you all the way through a rolling and dramatic landscape to the southern tip of the Nicoya Peninsula. The transfer costs USD 125 return and is paid on site when you arrive in Santa Teresa. The road trip that includes a cozy boat trip takes about six hours and gives you a nice introduction to beautiful Costa Rica. On the way home, the arrangement is the same but reversed. At noon on Saturday the shuttle bus will pick you up at the lodge and you arrive around 17:30 in San José. 
If you prefer you can fly between San José and Tambor - which is 40 minutes by car from the Santa Teresa. We would go with Fly Sansa which scenic flight costs around 300 bucks return.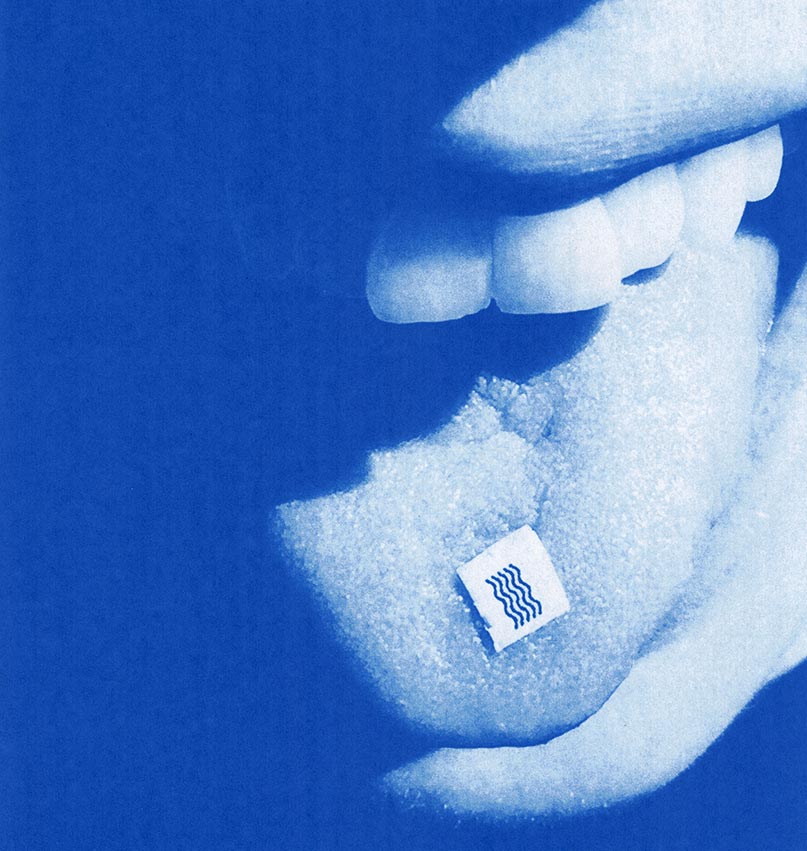 S
urfing is far from a sport, rather a lifestyle but above all a pure form of play. Surfakademin is not just a surf course, surf school or surf camp but a complete surf experience - a trip you will never forget.
All of our team are internationally certified lifeguards and surf instructors by the International Surfing Association. We all have extensive experience teaching everyone from beginners to coaching professional surfers competing at the national stage.
We film and photograph a couple of surf sessions each week as an extra tool for learning - which we then look at together at the guest favorite movie night.
To avoid learning how to catch your first wave the hard way (read a lot of wipeouts!) we carefully go through both surfing theory and etiquette before we hit the water. We also love talking about surfing's rich history and everything from how waves are formed to how to score serious style points. Just because you are a beginner doesn't mean you have to look like one.
Dates
Surfakademin's pura vida inspired surf retreat in Santa Teresa includes accommodation at Griss Lodge, Latin America's most delightful brunch, two instructor-led surf lessons per day, feedback sessions with film & photo and a wide selection of surfboards. We also divide the group by experience so that everyone can progress at a pace that suits them. If you want to maximize your adventure and stay for two weeks you get a special discount by emailing jagvillsurfa@surfakademin.se. You can of course stay for three weeks if can't get enough of magical Costa Rica!
The jungle lodge is located right in front of one of Central America's most beautiful surfing beaches - playa Santa Teresa.
---
A day on our winter home
Every day is unique in Santa Teresa - but usually we sneak up at dawn and see the sunrise from the water. After the days first surfing session Latin America's most delicious brunch awaits at the lodge. Then it's prime time for a nice read in the hammock, some chill and vibe by the pool or a 2 minute walk down to the beach. In the afternoon it's time for the next surf session. Before heading to one of Santa Teresa's fantastic restaurants we relax by running a humble yoga or meditation session.
---
Vaccination
Better safe than sorry - contact a vaccination centre or doctor to ensure you have the recommended vaccinations. Our destination is Santa Teresa on the Nicoya Peninsula in northwestern Costa Rica.
---
Insurance
We recommend that you double check that there is a travel insurance that is linked to your home insurance - nice know your safe if something unexpected happens.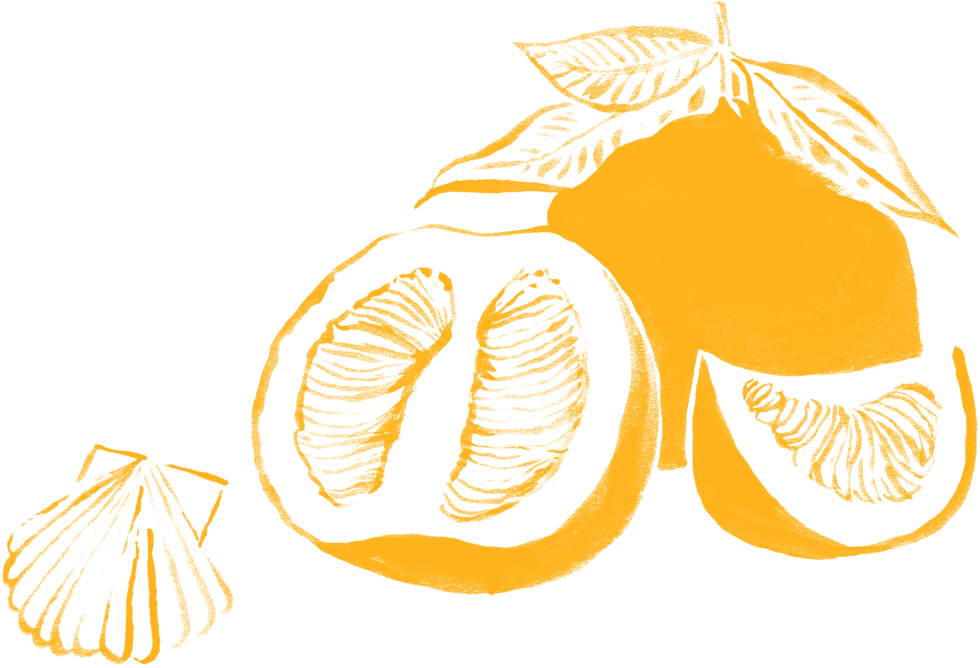 True facts
Costa Rica uses both the local currency Colones and USD - 1000 colones is about 2 USD.
No visa is needed as long as the journey is less than 90 days.
There are a couple of ATMs in Santa Teresa but sometimes they are in short supply of cash so it might be a good idea to either  or withdraw some cash at the airport in San José.
The sun down here is great and strong so the sun protection factor 50 is recommended.
One of our most enjoyable excursions is a ride up along deserted beaches and hills and then long jumps can be good to have otherwise shorts are the only thing the heat allows.
No need to worry about chewing malaria tablets as long as you stay on the Nicoya Peninsula.
Costa Rica is politically stable and is the only country in Central America that has never been in armed conflict with its neighboring countries.